Custom Ponds and Pond Construction in Chicago, IL
Pond Boy Water Gardens is one of the largest and most widely known custom pond companies in the Chicago, Elmhurst, Schaumburg, Oak brook and many other cities in the Chicagoland area. We have been building and maintaining custom ponds since 1997! We cater to the discriminating client looking for a water feature with visual appeal. We've become the Pond contractor you can trust, with almost 20 years of beautiful water feature and pond installation. Our custom ponds and waterfalls stand the test of time. In fact, most of our repair business comes from fixing other people's work. We use quality materials and pond construction techniques so that our waterscape designs stand the test of time!
Our service is also second to none. We offer the best warranty on material and labor. Plus, we offer reliable pond maintenance so you can enjoy your water features and never have to worry about maintaining it.

Custom Ponds:
It takes many years of practice and expertise to build custom ponds the way Pond Boy Water Gardens does. We have build hundreds of custom ponds across Chicago and it's suburbs over the last 20 years. From big ponds to little pond we have done it all. There is nothing we haven't seen and we are ready to perform the best pond construction Chicago has to offer right in your backyard. We offer all types of custom ponds, especially Koi Ponds (Click here for more information on Koi Ponds). Whatever our client wants, whether its a custom rock waterfall or a beautiful stream to accent your new pond, we will build it for you.
Waterfalls: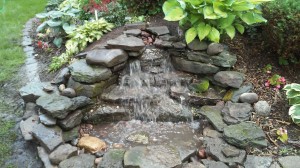 We don't just specialize in ponds, we also pride ourselves on the way we build custom waterfalls. These unique rock waterfalls will make you pond come to life! We offer all types of rocks to chose from and give you complete freedom to design the waterfall the way you want it to look. From the size, to the slope, to the amount of rocks in the waterfall, it's completely up to you.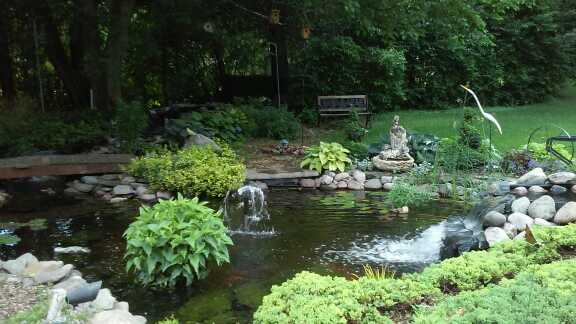 Water Feature Maintenance:
Pond Boy Water Gardens also offers pond maintenance and cleaning (Click here for more information on Water Features). We don't just build our clients custom ponds and then walk away. We are there year after year cleaning and maintaining your pond. We also perform spring openings and winter closings so that you can keep you pond looking fresh throughout the winter months. Even if we didn't build your pond, we would be more than happy to come and keep it clean for you.